The long awaited Trezor Model T is the latest hardware wallet available from the Trezor team. After shipping several rounds of pre-orders towards the end of 2017 it is now available on full release. So of course we ordered one to find out whether it was worth all the hype for this Trezor Model T Review!
Trezor Model T First Impressions
After ordering a full price Trezor Model T at the end of May, it turned up on just a few days later before it's estimated June arrival and despite having travelled half way around the world. I put together a quick unboxing video below to go through exactly what you get in the box and share my first impressions of the device.
Trezor Model T Unboxing Video
Trezor Model T Review: The Setup
The biggest change since the release of their first hardware device is the addition of a touchscreen interface so you can use it without having to input private keys, seeds, or pins through a computer, or clunky button interface.
You can watch along as we go through the initial set up of the Trezor Model T in the video below…
Note: As of June 2018 the actual software side of the wallet is still in beta which means there is more extensive logging of interactions and could be due for upgrades in the near future.
Trezor Model T Review: The Hardware
The Trezor Model T is small enough to fit in your hand or pocket so you can easily carry it around. However it doesn't come with a keyring strap as with other companies hardware wallets so it feels less like it has been designed for true usage on the go. This is backed up back the fact that it comes with a wall mount so you can securely hang the hardware wallet in a secure place or somewhere convenient.
The outer body is plastic and overall it feels relatively hardy. The USB port is open, which isn't unusual, but does mean you wouldn't want to take it to the beach or anywhere too adventurous. It very much feels like a device you would keep in an office or a "safe space" rather than taking it to your local coffee shop or offline bitcoin bazaar for frequent daily usage.
Trezor Model T Review: The Software
The first neat feature you'll notice when logging into the device is that the pinpad changes order every time. This means that you should be safe from someone watching you input your login details in person or through CCTV, or even trying to work out your codes from your fingermarks.
Both the on-screen and desktop wallet interfaces are quite clear and easy to understand. The biggest confusion for new users is likely to be the logout functionality where you tell the desktop wallet to "Forget your device". This terminology is likely trying to avoid confusion in relation to the way assets are stored on the blockchain whilst meta data is stored on the desktop wallet.
Whatever wallet you use, hardware or otherwise, it is important to remember that access to your assets is always controlled by a seed or private key . In the case of a Trezor device the private keys are cryptographically derived from your 12 word seed key.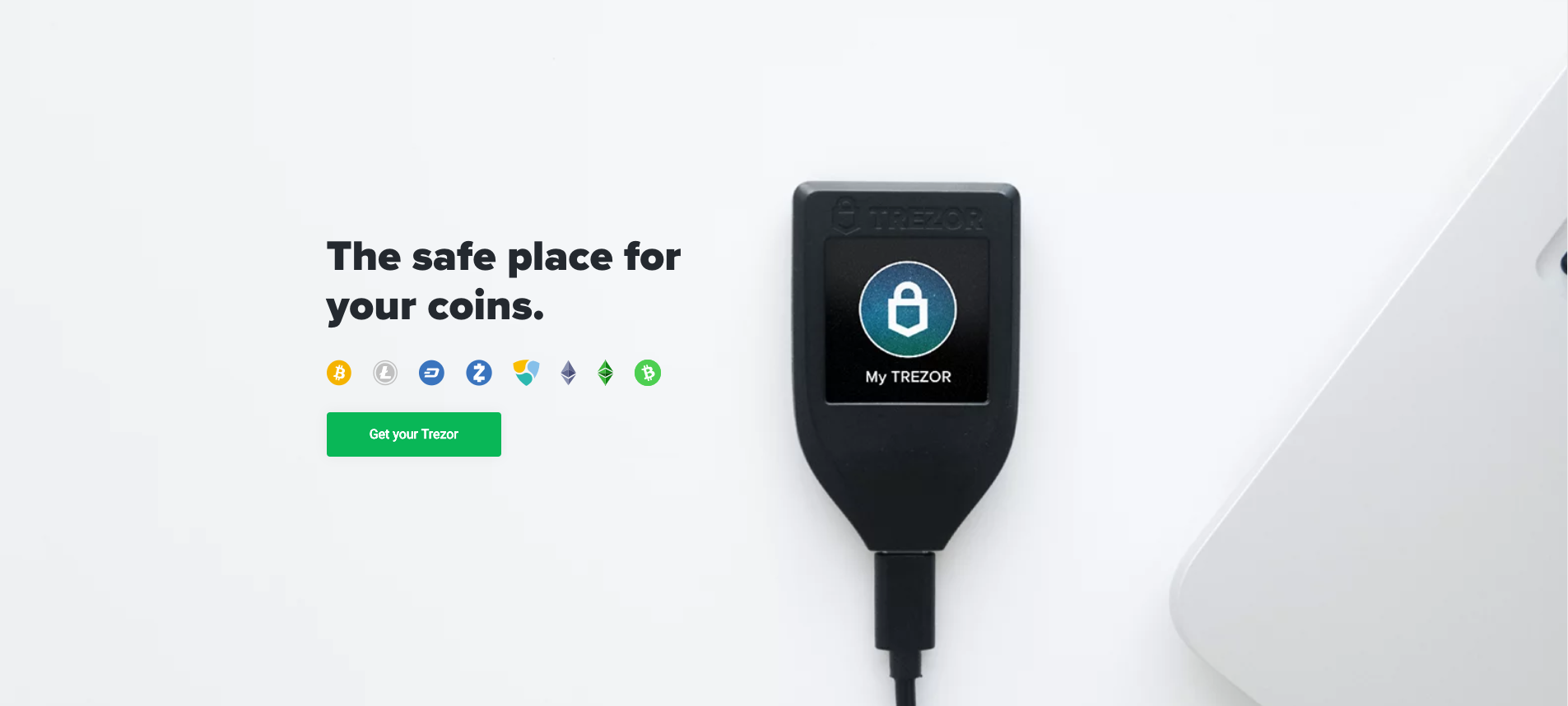 Trezor Model T Supported Coins
As things stand the Trezor Model T supports many of the most popular cryptocurrencies and hundreds of other crypto assets through it's ERC20 Token support. It does have a few omissions which can be found in the Ledger Nano but it comes with more modern feature such as the touchscreen and it is always possible that more coins will be added later.
Bitcoin (BTC)
Litecoin (LTC)
DASH
Zcash (ZEC)
Bitcoin Cash / Bcash (BCH)
Bitcoin Gold (BTG)
Ethereum (ETH)
Ethereum Classic (ETC)
ERC-20 Tokens – This covers hundreds of Cryptoassets on the Ethereum Blockchain!
Expanse (EXP)
UBIQ (UBQ)
NEM (XEM)
Namecoin
Dogecoin
Bitcoin Testnet
Other Notable Features
In addition to the storage of cryptocurrency it can also work as a two-factor authentication device as "Something you have" in addition to your password, i.e. "Something you know". There are much cheaper devices for this (e.g. Yubikeys) that are a lot more affordable and indestructible so again, this probably wouldn't be you primary 2FA device however it could be useful to use it in co-ordination with online accounts that are related to your cryptocurrency.
Trezor Model T vs Trezor One
Of course the real purpose of a cryptocurrency hardware wallet is for safely storing and interacting with crypto-assets and the real test of this is over the long term. Trezor have been making hardware wallets since at least 2013 when with the Trezor One, so they have a lot of experience keeping crypto safe.
The Trezor One has mostly withstood the test of time except for a few blips which were quickly fixed. As the new software components for the Trezor Model T are still in beta it is probably too early to say that is definitely better but they have already removed the risk of having to input data on your desktop device.
One current restriction with the newer device is that you can only generate 12 word seed keys. This is not uncommon and the developers argue that a 24 word seed key actually adds very little entropy (read: security). So whilst theoretically doubling the amount of words would make it harder to brute force 12 words should already be enough to protect against this possibility.
Overall as long as they keep up their attention to detail and are quick to fix any issues that are discovered then you should be in good hands with either Trezor device.
Trezor Model T Price
Both the Trezor One and Trezor Model T are premium hardware wallets for storing cryptocurrency. But if this is you first cryptocurrency hardware wallet then it is easy to use and comes from a trusted brand. It is a little on the expensive side in comparison to their older model or even a Ledger Nano S, but it is more cost effective than similar touchscreen devices such as the Ledger Blue or Keepkey wallet.
Some Final Thoughts on Hardware Wallets…
The sad reality is that cryptocurrency is an attractive target for hackers. If you hold any amount that you don't want to lose, it is highly recommended that you use a hardware wallet. There are still only a few players in this market and Trezor is undoubtedly one of the most well known brands. Whether you buy a Trezor One or Trezor Model T, you will likely be happy with your choice.
With that said; the Trezor Model T is the newer model will likely be getting the most updates so that would probably be my choice, but the flip side is that the Trezor One is the most battle tested at this stage, so if you have a lot to secure and want to be extra cautious you might opt for that instead. And ultimately if you're truly paranoid with a lot to lose, then it might make sense to split your funds over multiple hardware wallets from multiple brands and throw in some cold storage with a Cryptosteel locked up in a vault so you can split your risk.